About Us
Tourism is one of the best therapies for many. Since the start of humans, tourism has been an integral part of human life. Trip for Goa is a prominent tourist brand in Goa and Konkan Coastal Region for providing premium travel services at a reasonable rate. Since 2010, Mithila Traders (is helping tourists to Goa and Konkan Coastal region earning remarkable and cherished experiences for life.
In Goa only, a plethora of tourists' companies is operating and providing tourism services. But we at Trip for Goa believe in the personal touch. We offer customized packages to our customers while keeping their demand and interest in mind. Whether you are a newly-wed visiting for a honeymoon or travelling with family for a pleasure trip, we are one of the best travel agents in Goa and the Konkan Coastal region and are constantly expanding our horizons for providing the best amenities and itineraries to our customers.
Come to Goa and Konkan and explore the lively beaches and lifestyle of the Konkan region. The far stretched Arabian sea, jaw-dropping Dudhsagar Falls, historical monuments exhibiting architectural brilliance, and a bounty of adventure activities including scuba diving, banana ride, parasailing, Jet Ski, Bumper Ride, etc. keep you always thrill and excited during your journey. The enchanting seawater and marine life are perfect for increasing the adrenaline hormones for the adventure aficionados. The captivating nature and the kaleidoscope of Konkan and Portuguese culture offers a unique charm to the entire region.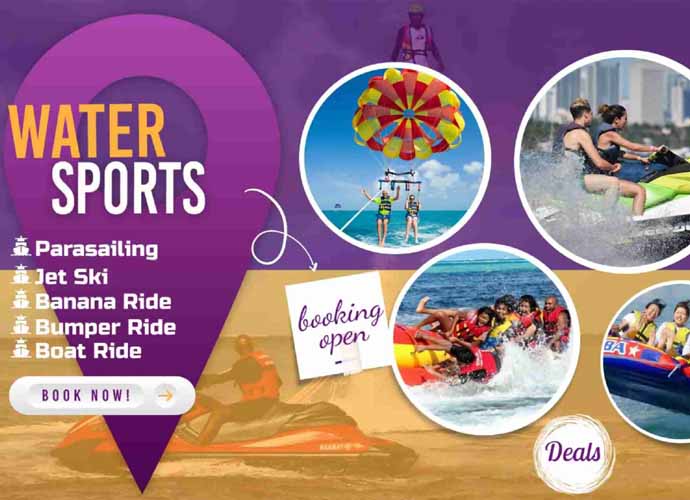 ➢ Feel the home away from your home with our effort.
➢ Assurance of safety and hassle-free tour
➢ Best arrangement for kids
➢ Arrangement of adventure activities while maintaining all the security norms
➢ Best itineraries at the customized rate
➢ Tailored services
➢ Hotel booking at the best rate
➢ Transport facility including pick and drop for a designated destination
➢ Special arrangement for water sports activities such as Scuba diving
➢ Gala Event organizing such as birthday, destination wedding, anniversary, party, etc.
➢ Business parties and launching parties
➢ Club entry passes arrangement